Faite progresser votre service IT à l'aide d'une nouvelle approche.
Les entreprises modernes investissent dans une technologie de nouvelle génération au lieu de gâcher des ressources en gérant des systèmes inefficaces, en vue de profiter des avantages suivants :
Coûts opérationnels réduits
Modèle opérationnel IT unique
Automatisation et virtualisation accrues
Réduction du budget IT futur
Grâce à notre approche plus stratégique envers les plateformes de charges de travail, nous vous garantissons une adaptation plus rapide, tout en vous permettant de faire face à l'évolution rapide du secteur.
---
Find the right cloud for your business.
Public, Private or Hybrid Cloud?
Public Cloud

In the public cloud, compute and storage are hosted on external servers that are managed by cloud service providers and delivered over the internet.

Benefits include:

Scalability - Never run out of space
Cost-effectiveness - Only pay for what you need
Simplicity - Remote servers share the workload

Private Cloud

A private cloud offers you many of the benefits of a public cloud while maintaining in-house control.

Benefits include:

Ease of scalability
Total ownership
Control of risk & compliance



Hybrid Cloud

Deploying a hybrid cloud gives you the benefits of both private and public clouds in one integrated solution that helps you do more, on your terms.

Flexibility of the public cloud
Security of a private cloud
Control over mission-critical workloads



---
42 % des professionnels de l'IT considèrent qu'il a été l'une des technologies les plus essentielles pour leurs initiatives en termes d'innovation digitale au cours des deux dernières années.
— Index Intelligent Technology™ d'Insight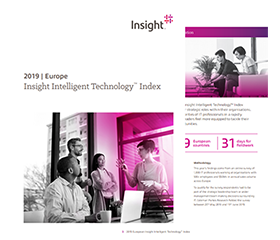 ---
Une stratégie IT axée sur votre entreprise.
Grâce à une évaluation complète des charges de travail, nous vous aidons à prendre des décisions plus éclairées concernant la migration des charges de travail et l'alignement de celles-ci sur les besoins de votre entreprise. Au lieu de supprimer et de remplacer votre infrastructure existante, nous proposons une mise à niveau stratégique et une migration lorsque cela est possible.
Nous déterminons vos exigences spécifiques en matière de sécurité, de stockage de données, d'accès utilisateur et de croissance, tout en tenant compte de l'impact potentiel sur vos finances, opérations, processus et personnel dans chaque décision.
Votre parcours commence ici.
Que vous envisagiez d'effectuer votre premier investissement dans le Cloud ou d'optimiser votre environnement en leur rendant plus dynamique et multiplateforme, nous vous aidons à évaluer les charges de travail et l'environnement technologique, tout en optimisant votre efficacité globale.