Le niveau supérieur de l'exploration
Découvrez comment Microsoft® HoloLens 2 favorise les formations pratiques et la collaboration grâce à un casque de réalité augmentée.
L'avenir du monde du travail
HoloLens 2 offre une combinaison révolutionnaire de matériel, de réalité mixte et d'intelligence artificielle (IA), afin d'atteindre des niveaux de productivité inédits.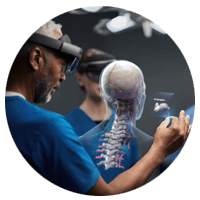 Immersive
Untethered hardware and a large, high-resolution display give you the full picture of your surroundings.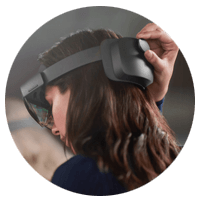 Comfortable
The headset is designed to provide optimum fit, minimal eye fatigue and consecutive hours of use.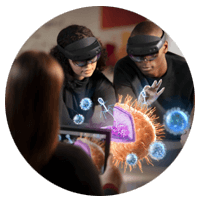 Intuitive
User-friendly voice and hand commands let you seamlessly interact with holograms in your environment.
Défiez les limites spatiales.
HoloLens 2 ne met pas simplement à niveau votre environnement de travail immédiat, il facilite également la collaboration entre les sites. Dynamics 365® Remote Assist permet de partager des données visuelles en mains libres. Vous pouvez ainsi résoudre les problèmes de manière rapide et collective.
Le déploiement simple de l'application, les mises à jour automatiques et la sécurité robuste ouvrent les portes de la collaboration virtuelle. En outre, il est compatible avec les applications Microsoft que vous utilisez déjà, notamment OneDrive®, Power BI® et Dynamics 365 pour le service sur site.
Développez vos capacités d'IA.
La technologie qui alimente le casque HoloLens assure également la transformation au-delà du casque. Le kit de développement Azure® Kinect® propose des capteurs haute performance, une caméra vidéo et un jeu de microphones en un seul appareil compact et polyvalent.
Ce petit package contient de grandes fonctionnalités que les développeurs peuvent utiliser pour créer des solutions d'IA, depuis l'automatisation des processus d'inventaire jusqu'à l'élimination des risques de l'espace de travail. De plus, l'intégration élégante avec Azure Cognitive Services et Azure Machine Learning facilite l'optimisation et l'évolutivité de votre système.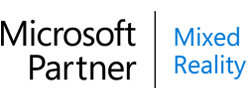 Solutions d'entreprise révolutionnaires
En tant que partenaire Microsoft Mixed Reality, l'équipe Digital Innovation d'Insight crée des expériences de réalité mixte qui aident nos clients à révolutionner la manière dont ils relèvent les défis commerciaux.
Remarque : On recueille actuellement des marques d'intérêt pour les précommandes HoloLens 2 pour les États-Unis, la France, l'Allemagne, l'Irlande et le Royaume-Uni. HoloLens2 n'a pas encore été autorisé en vertu des règles de la Commission fédérale des communications (FCC) des États-Unis ou de la Directive 2014/53/UE. La vente et la livraison réelles de HoloLens dépendent de la conformité du dispositif aux exigences FCC et à la directive 2014/53/UE applicables.